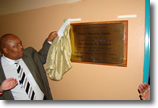 Speech by the Honourable MEC for Health, Mr Mxolisi Sokatsha, on the occasion of the official opening of the newly refurbished Clinical Resource Centre at the Kimberley Hospital Complex. Kimberley, Frances Baard District – Northern Cape,
24 May 2010 : 11h00

Today we are celebrating yet another significant milestone in the improvement of quality health services as well as the creation of a vehicle enabling us to access life saving and much needed information in the field of health and medicine.
Nike React Element 87
Ladies and gentlemen, today we are officially opening of the newly refurbished Clinical Resource Centre here at the Kimberley Hospital Complex.
Government's aim is to focus on outputs and activities contributing to "a long and healthy life for all South Africans". The key objective will be to increase the life expectancy of citizens and ensure that all people have access to healthcare. In order for us to achieve this, our health professionals and personnel needs to well trained and knowledgeable in the field of medicine and health. As the ANC led government of South-Africa, we have an obligation towards the healthcare of our people. In this light, as a response to the call of our people during the April 2009 elections, health has been prioritized as the one of the five key areas together with crime, education, rural development and job creation for the next five years.

In addition, government developed a Ten Point Plan to address the service delivery challenges faced by the health sector. The opening of the Clinical Resource Centre is a direct response to Point three(3) –Improving the quality of Health services, Point six(6) – Revitalization of infrastructure as well as Point ten(10) - Strengthening research and development.

Programme director, Health Care Professionals need to access evidence-based information in order to be efficient and effective in services they deliver to their clients. They also need to be updated on all health-related matters in order to take critical decisions regarding patient care. Research activities and clinical trials should form part of a hospital of this magnitude and PTC activities must be enhanced.

In view of this, we decided to refurbish and establish a Clinical Resource Centre at Kimberley Hospital at a cost of R500 000. The centre is strategically located in that it is in the centre of the hospital and is easily accessible to all health care professionals. The Resource Centre will serve the needs of the entire Province and health care workers from the five districts will be able to access information.


The aim of the Clinical Resource Centre is to provide all staff of the Department of Health with access to information, in order to enhance patient care. The unit is equipped with ten (10) computers connected to the Internet, textbooks and electronic journals for research purposes.

Healthcare facilities are responsible for rendering basic and specialized health services to communities, but due to limited financial resources, personnel and capacity, they are struggling to meet its constitutional mandate. However, the successful implementation of health care programs and infrastructure depends on effective partnerships with the private sector and government in improving the delivery of quality health care.

Today marks the success of such partnerships. I wish to take this opportunity to applaud the efforts by Management Sciences for Health (MSH), a sub-division of USAIDS to make constructive contribution towards improving our health system as well as to highlight and make a lasting difference in the lives of our people. This is a true reflection of how working together, we can do more. Ladies and gentlemen, as the Provincial Government and the Department of Health, we will continue to utilize all resources available and build on engaging the private sector to contribute to improve service delivery to all and create a better life for all. The Constitution, the Patients Charter and the Batho Pele principles will be our guiding lights to delivery on our mandate and ensure quality health service excellence to all.


As the ANC led government, we have made giant strides in the improvement of health service delivery to our people, but more still needs to be done in terms of the quality of our services, making services more accessible and to achieve more positive health results. We feel that this new resource centre will enable our health professionals to achieve these goals and ensure that we as a province continue to implement our mandate and giving life to the vision of the Department of Health namely "Health service excellence for all"

In conclusion ladies and gentlemen, let me take this opportunity to re-emphasize the following. The Department of Health is busy with a national immunization campaign and I request all parents to take their children under the age of five years to their nearest clinic to be immunized against measles and polio as well as receiving deworming and Vitamin A medication.

Furthermore, during April 2010, the Honourable Premier Hazel Jenkins officially launched the HCT Campaign in the province. We urge all the people of the Northern Cape to visit their nearest health facility to get voluntarily tested for HIV. As government, we aim to reach fifteen million people nationally by June 2011 that have tested themselves for HIV and received counselling. In the Northern Cape we aim to reach three hundred thousand people in the mentioned period.

As a country and a province, we are going to be part of the most prestigious sport event in the world this year namely the FIFA Soccer World Cup. As the Northern Cape Provincial Government we want to encourage all to be part of this spectacular event and support the "Football Friday" campaign by wearing your Bafana Bafana soccer shirts on Fridays until the actual day of the world cup.

Ladies and gentlemen, it is my honour and privilege to now officially open the newly refurbished Clinical Resource Centre at Kimberley Hospital. It is our hope and desire that this centre will meet the needs and expectations of all and truly fulfils it's desired aim and purpose.

Thank you.