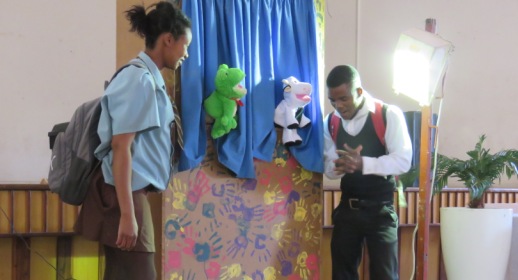 Northern Cape - On the backdrop of Child Protection Month, the Department of Transport, Safety and Liaison has brought education of children's rights to live for pre-scholars in Hartswater with an educational puppet show on children's rights and protection.
The initiative hosted recently in Hartswater, by the Department along with stakeholders, is one of the ways we are raising awareness to our vulnerable members of our society – our children, of their rights and that they deserve to be safe. The puppetry demonstration is a way to ensure our messages reach children in a way that will be exciting and informal for them to understand.
The pre-scholars are amongst children that we are sharing our messages with especially during this crucial time when more and more of our children are either being reported missing or sexually abused across the country.
We want our children to know and understand their body parts as well as knowing what is appropriate and what is not. Our children need to know they can tell their parents, guardians or teachers if someone is touching them inappropriately or saying inappropriate things to them. "We also want to caution parents and guardians to be observant to changing behaviour or patterns of their children," said Acting Regional Manager for the Frances Baard District, Mr Greg Jammer.
"If a vibrant and outspoken child suddenly behaves differently that it's a red flag to pay attention and calmly ask questions and also to be observant of signs of child abuse. Parents also needed to keep tabs of their children's whereabouts and keep a close eye on them," said Jammer.
Speaking to the children, Sergeant Tumelo Sebuasengwe from the Hartswater Police Station, cautioned them to avoid walking alone or accepting lifts or sweets from strangers and to always play close to home and in groups if possible. He said it was not ok for people to touch them on "no go places" and they must tell if anyone is offering them lifts or touching them inappropriately.
Sergent Sebuasengwe also beseeched that parents should not wait long period of hours to report missing children as they could be gone too far by then. If you have looked everywhere and ran out of places to look and still have not found your child, immediately seek help at your nearest police station.
Ms Keitumetse Moticoe
Communications Department of Transport, Safety and Liaison
082 064 7003( This email address is being protected from spambots. You need JavaScript enabled to view it.) 053 839 1700/836
Facebook: Department of Transport, Safety and Liaison
Issued by the Northern Cape Department of Transport, Safety and Liaison
Air Max