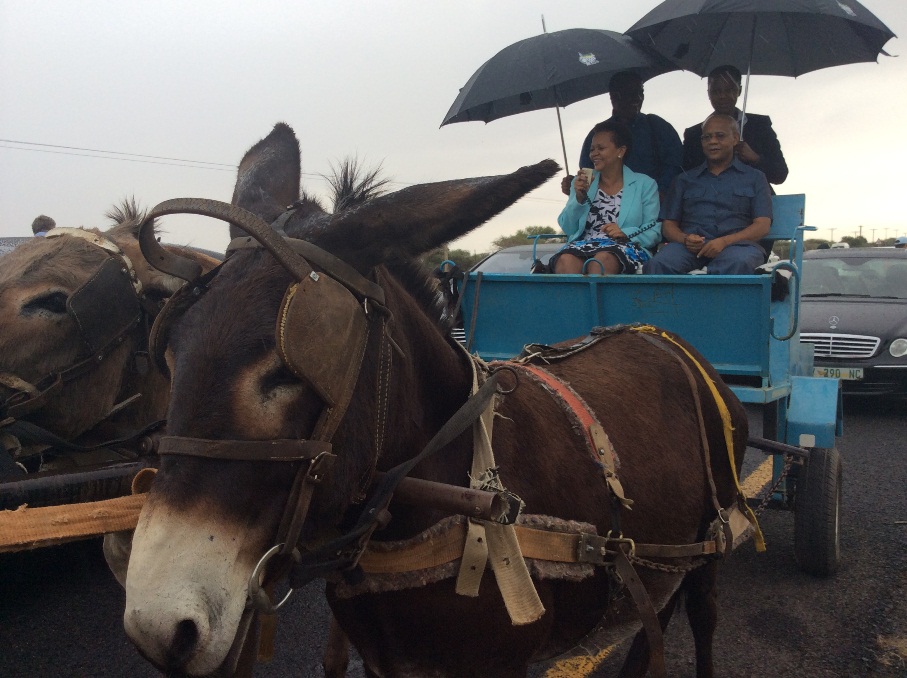 MEC Martha Bartlett
Transport Month Closing Event
1 November 2014
Mens Flynit Trainers
Acting Director General of Transport
Deputy Director General of Roads
MEC Norman Shushu
Executive Mayor of Frances Baard District Municipality
Mayors and Councillors
Senior Officials from all spheres of Government
Leadership of SANTACO, Northern Cape Taxi Association and the
Taxi and Bus Chamber
All Transport Entities
Community Leaders
Religious Leaders
Our Youth, especially the learners
Members of the media
Distinguished Guest
Ladies and Gentleman
Comrades and Friends
Program Director

During our Transport month campaign, we have witnessed a number of road accidents and fatalities throughout our country, on our national roads. We also lost 3 of our sporting heroes, that played a critical path in uniting our country through sport.

It is only proper that we all rise and observe a moment of silence for all those who lost their loved ones and family members on our roads.

I want to reassure these families that their loss is also our loss and we trust that the Almighty Father will strengthen them in this difficult time.

October Transport Month 2014 was celebrated under the theme: "Together We Move South Africa Forward" in the context of the country's 20 Years of Freedom celebrations. With events taking place in all corners of South Africa, we have made sure that we increase awareness amongst South Africans on road safety and celebrate the critical role transport plays in changing the face of our economy through providing efficient, reliable and safe public transport.

Although this is the closing event for Transport month, we must remember that this is a life long journey to provide a better life for all, which started in 1994 with the advent of democracy, led by the African National Congress.

Today, as the ANC Government, we are also recommitting ourselves to change the lives of all our people for the better through effective transport system and infrastructure.

Over the past three days, Kimberley hosted the BRICS EXPO (Brazilia, Russia, India, China and South Africa) and Investors Conference to improve our international working relations and showcase our investment opportunities within our beautiful province.

As the Northern Cape Department of Transport, Safety and Liaison we identified major key infrastructure projects namely, the Port Nolloth Harbour, De Aar Freight/Logistics Hub, Upington Airport Cargo Hub, Belmont/Douglas Branch Line (Upgrade) and Intra-Provincial Flight that will address poverty, unemployment and inequality.

The transport sector is a significant enabler of economic growth and social development, and we must promote the continued and sustained investments by government and the private sector across the four modes of transport namely: road, rail, maritime and aviation.

These projects will contribute immensely towards long term economic growth, eradication of poverty, creation of decent jobs, skills development and contributing to an efficient and effective transport system in the Northern Cape and South Africa. As Government we will continue to deliver and changing transport infrastructure in road, in rail, in marine and in aviation.

I am also pleased to announce that the Northern Cape will be hosting the International Civil Aviation Day in little more than a month's time.

Ladies and Gentleman

This closing event does not mean that we are shutting down our commitment to build roads, bridges and rail networks. We will continue to upgrade and maintain our transport infrastructure as we move South Africa forward.

The National Development Plan is our nation's strategic long-term plan to tackle poverty and inequality. We align our work with the National Development Plan to ensure that our efforts respond to the long term goal of socio economic development.

We strongly view transport as vital to our way of life, connecting people with jobs, schools, shopping centres, family and friends. As we are nearing the festive season, we share our roads as a nation and have a choice to enjoy our good infrastructure as responsible citizens or to be part of the tragedy. The success of our road safety campaign depends on each one of us doing our part to create safer roads.

Program Director

In conclusion, let me take this opportunity to thank all our stakeholders and every member of our communities for being active and committed during Transport Month campaign. Let your dedication and commitment continue as we move South Africa forward!

I thank you!