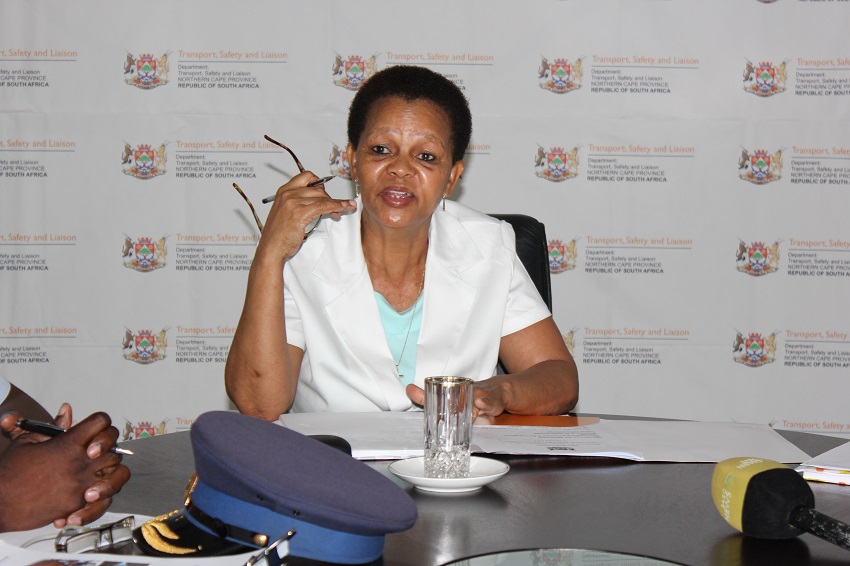 14 January 2015
MEC Martha Bartlett Department of Transport, Safety and Liaison Festive Season Road Safety Statistics Release 14 January 2015
FASHION NEWS
Officials from the Department
Stakeholders and Partners in the Transport
Fraternity
Members of all media houses
Ladies and Gentleman
The year 2014 marked the 20 years of our freedom and democracy in South Africa, which many of our unsung heroes and heroines fought and died for.

Today also marks the official closing of the 2014 festive season road safety campaign, which was undertaken as part of a yearlong programme to promote road safety in our country.

Ladies and Gentleman

During the Festive Season we have once more witnessed many of our people losing their lives on our roads. Please, allow me to express our sincere condolences to all those who have lost their loved ones over the Festive Season period due to road carnages.

The festive season programme is not implemented in isolation, but forms part of an on-going programme and campaigns that the Department of Transport, Safety and Liaison, its agencies has been carrying out in conjunction with stakeholders in the transport sector as well as the general public throughout the year to ensure that lives are saved.

Road traffic fatalities are amongst the main causes of death in South Africa. This results in serious social and economic costs for the country. These consequences also include the loss of family members, bread winners and leave behind traumatized families.

During the launch of the festive season we called upon all our citizens to observe and obey the rules of our road. We also committed ourselves to a "Zero Tolerance to Lawlessness" through our law enforcement campaign throughout the Province.

During the festive season, 103 traffic officers, joined by 17 national traffic officers were deployed on our roads and covered 31 709 kilometres in the Northern Cape. We have stopped 31 570 vehicles and arrested 879 offenders on our national roads, to ensure that those travelling and visiting our Province obey the rules on our roads.

Besides all these efforts, from the1 December 2014 up to 5 January 2015, we registered 35 accidents with 44 fatalities, which included:
5 x Drivers (this includes different types of vehicles)
33 x Passengers (their gender and ages are not available at this stage)
6 x Pedestrians (includes 5 adults and 1 child)

No major accidents were reported this year, although most of the accidents reported, happened in the John Toalo Gaetsewe District (9).These accidents took place throughout daytime as well as night time. At this stage we cannot confirm whether all the deceased are from the Northern Cape.

Although we are the Province with the lowest number of fatalities on our roads, this figure still remains unacceptable high. We must acknowledge the fact, that we have experienced a significant decrease (-25%) in relation to the previous year's 59 fatalities.

The main causes of these road fatalities were:
Drunken driving
Excessive speeding
Dangerous overtaking
Not using seatbelts
Not Roadworthy vehicles

The Department will continue to implement on-going campaigns to ensure that we significantly reduce road fatalities by 50% by the end of the United Nations Decade of Action for Road Safety in 2020. Necessary actions will be taken to ensure that we further reduce our road fatalities by the end of 2015. 

Building on our recent experiences, the Department will continue to improve its law enforcement policies and strategies, and upscale public safety campaigns.

Specific interventions, going forward, will include:

Increase capacity of traffic officers throughout the     Province
Expand safety education and road safety initiatives in communities
Vigorous and integrated law enforcement operations throughout the year to make our roads safer
Scale up on the communication for key road safety campaigns with the general public
Greater collaboration with all stakeholders and partnerships which are necessary in order to conduct successful road safety campaigns


Ladies and Gentleman

Minister Dipuo Peters captured it perfectly, when she said: "We wish to assure you that the Department, its entities and its stakeholders, as well as all partners will gallantly and relentlessly fight flagrant lawlessness and irresponsible usage of our roads that robs us our loved ones".

Let us continue to be road safety ambassadors and remember:
Not to drink and drive
Do not text and drive
Do not drink and walk
Do not speed
Please buckle up

Gayle Foreman remarked:

"We are born in one day. We die in one day. We can change in one day. And we can fall in love in one day. Anything can happen in just one day."

Road Safety is everyone's responsibility.

Together Let's Save Lives and Move South Africa Forward.

I thank you!!