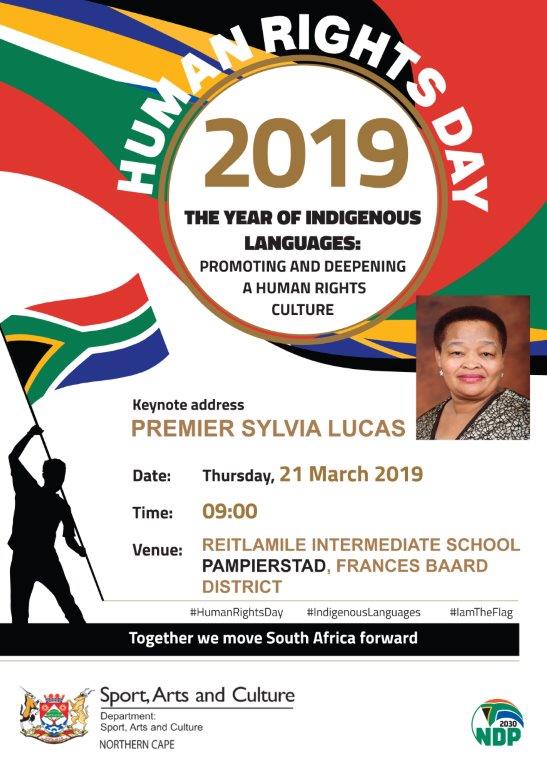 The Northern Cape Provincial Government will be celebrating the 2019 Human Rights Day on Thursday, 21 March 2019 at Reitlamile Intermediate School in Pampierstad. The day will be commemorated under the theme: "The Year of Indigenous Languages: Promoting and Deepening a Human Rights Culture". Premier Sylvia Lucas is scheduled to deliver a keynote address. She will be accompanied by the MEC for Sport, Arts and Culture Ms. Bongiwe Mbinqo-Gigaba together with other dignitaries.
The community of Frances Baard District are set to benefit from a number of educational and recreational activities scheduled to be rolled out as a build up towards the Human Rights Day commemoration. They community will be exposed to Cultural Affairs Information session, basic Information Technology lessons, Indigenous Games, Netball/ Basket ball and Soccer games amongst others. The department will also facilitate a debate in Human Rights, career exhibitions and library orientation.
Since 1994 we have used Human Rights Day to honour those who fought for our liberation and to celebrate our rights and freedom.
The celebrations will draw attention to the critical loss of indigenous languages and the urgent need to preserve, revitalize and promote indigenous languages.
Our build up programmes will be used to as a vehicle to foster social cohesion, nation building, national identity, socio-economic development and to combat racism, racial discrimination, xenophobia and all related intolerances.
We will also highlight progress made in advancing human rights and restoring human dignity in line with the Bill of Rights.
The Constitution emphasizes that all official languages must "enjoy parity of esteem" and be treated equitably, thereby enhancing the status and use of indigenous languages, with government taking "legislative and other measures" to regulate and monitor the use of disadvantaged indigenous languages.
Members of the media are invited to attended and provide coverage to the event. For any enquiries, do not hesitate to contact Mr. Morapedi Sekhoane at 078 944 0200.

Issued by:
Communications Unit
Department of Sport , Arts and Culture
Tell: 053 807 4700
AIR JORDAN