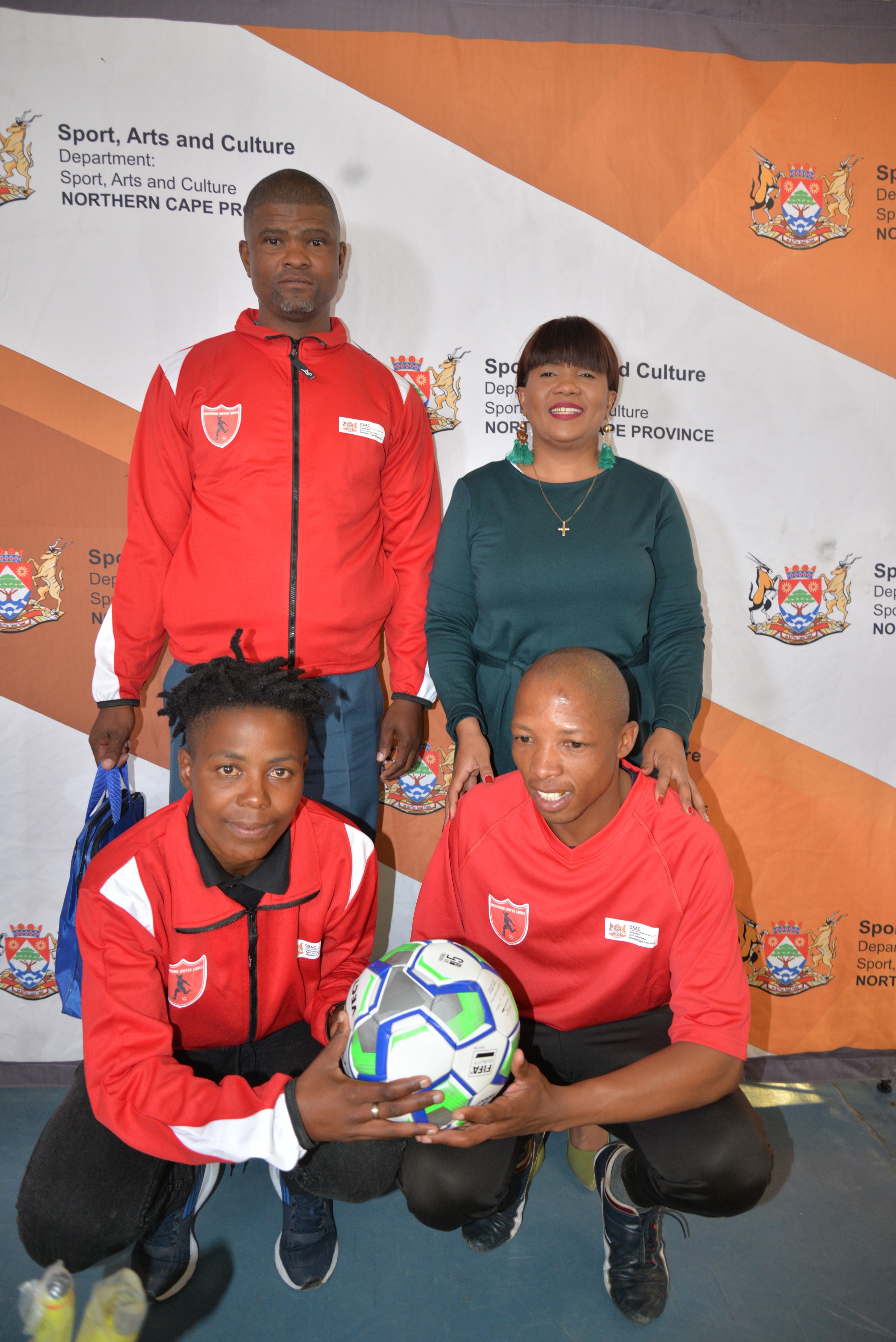 The Richmond United Ladies Team , who is based in De Aar is the first soccer team in the Province to participate in the National Women's League in South Africa. The team has earned their place in the First Division by winning the Sasol Women's league which is the one below the National Women's League.
On the 11 September 2019 the Department of Sport , Arts and Culture provided assistance to the team by ensuring that they are equipped with playing attire , soccer boots and the neccessary training equipment . The value of the entire package is in the region of R 250 000. The Department will further more be providing High Performance assistance where the team will be travelling to Kimberley for a couple of days.
During the handover of the event the MEC for Sport . Arts and Culture Ms Bernice Sinxeve stated that " Government is serious about women's participation in sport, this is why we give you all the support we can. We therefore support the vision and goals of the National Women's League "
The MEC also encouraged the players to remain focused and reminded them that it is a given fact that no one can stop women that is committed, dedicated and driven to achieve their dreams
I say to you all, half the battle is won, by just being part of this unified team and representing your province.
The participation of the Richmond United Ladies comes in the wake as the Northern Cape Province and the local South African Football Association is in the process of developing a Football Development Plan for the Province with our ulitimate goal of ensuring that a team of the Province participates in the Premier Soccer League.
The owner of the team Mr Armichad Amsterdam was extremely delighted and very thankful and appreciative for the support rendered by the Department. He indicated that the provision of the training equipment now allows them to work on the necessary skills and fitness which is of extreme importance to firstly remain the National Women's League and secondly to perform well against all the other teams.
The team will be playing in Limpopo on Sunday and the assistance came at the most ideal time. They have played two games thus far with a bag of mixed results, by winning one and losing one.
The captain of the team Ms Notolo Nongxusa expressed her deepest appreciation and indicated they cannot wait for Sunday to play in their new kit , boots and show off their new tracksuits and after game t shirts. She also indicated that the provision of the equipment will assist them with the latest training ground exercise and tactics.

Issued by: Conrad Fortune
Spokesperson for the Department of Sport ,Arts and Culture.
秋コーデ メンズ【2020/2021年最新】 , メンズファッションメディア